Executive Sweet - Joke Title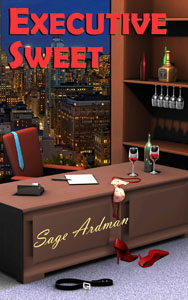 Return to Book Page
The funny name, Executive Sweet is not new. Here are some of the others that I have found.
| | |
| --- | --- |
| 1962: A fighter airplane. A North American B-25J Mitchell that seems to tour the country, at air shows and nostalgia events. | |
| 1965: Executive Sweet by Joan Ellis. A career woman juggles romance with a married man, an old high-school boyfriend, a next-door neighbor, a female friend, and even the building superintendent. In a brief but satisfying ending, she gets the right person. | |
| 1975: Executive Sweet by Jack Walker. A sleazy pulp novel about a woman who seduces her way to the top of a company. | |
| 1977: Dole Bananas. An advertising campaign. | |
| 1978: A trading card. The card was for the television show "Three's Company". | |
| 1979: A chocolatier. They are located in Ohio. | |
| 1988: Cheers. Episode 2 from season 7 is titled "Executive Sweet," about a young executive who falls in love with Rebecca. | |
| 2000: Executive Sweets, by Ted Isaacs. A short and trashy story about an executive and his wife, followed by many pages of business advice. | |
| 2012: Executive Suite or Sweet Executive?, by Rene Larouche. A short and kinky book about business and humiliation. Not a romance: pure erotica. | |
| 2014: Executive Sweet, by Alexis Adaire. A series of short books about a woman who submits to a bunch of rich, kinky executives. Not a romance: pure erotica. | |
| 2014: Executive Sweetie, by Carolyn Foulkes. Three short stories about women in the workplace, highlighting the differences and difficulties. | |
Got any more Executive Sweet sightings? Let me know and I'll add them here.