I'll Get You My Pretty
Book 2 in the Westerley series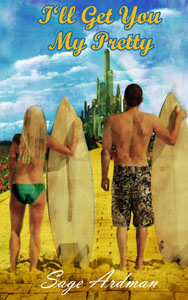 Enlarge
Buy for Kindle
Buy paperback
Free Preview
Reviews
Legal
Previously published as A Good Little Girl Like You but nobody got the Wizard of Oz reference (the former title was part of the Wicked Witch of the West's dying words).
What do you get when you combine a surfing billionaire, a globe-trotting businesswoman, and The Wizard of Oz?
O.E. Orton has a very large bank account and an even larger ego. Ever since he struck it rich, there's nothing he can't have, including a California beach house where he goes to surf. One night at a party, he makes an unusual wager that involves his pride, his money, his finesse with women, and surfing. He'll be sorry.
Rebecca Moore specializes in international negotiations. She flies all over the world for her work and speaks many languages. But regardless of her language skills, she's going to have a hard time communicating with O.E. Orton.
And what about The Wizard of Oz? Does it play an important part in their budding romance? Do they walk on the yellow brick road and visit the Emerald City? Do we meet Dorothy, the Wizard, the Witch, and even Toto? Yes!