The Fiery Boys
Book 1 in the Fame series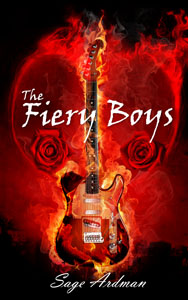 Enlarge
A romance puzzle: Which of the four band members will she end up with? Figuring it out is part of the fun.
Buy for Kindle
Buy paperback
Free Preview
Reviews
Legal
Fiery Boys Music
I've been in love with the Fiery Boys for ten years now, so I was incredibly excited when they announced a reunion tour. Their music meant more to me than most people realized—it had literally saved my life.
Back before they broke up, most people screamed for Chuck, the tall, seductive lead singer. Gabe, the guitarist, was usually their second choice, although I never understood why. Besides, I didn't want those two. The one I wanted was River, the buff and sexy drummer with the shaved head. Buck, the blue-eyed bass player, was my second favorite. No denying it, these were four gorgeous rockers.
Not that any of this really mattered. I wasn't foolish enough to fall prey to the usual fan-girl fantasies that made people wait by the stage door and rip their clothes off. Well, except with River, who I could get pretty delusional about—he was crazy hot.
But then two amazing things happened. First, the Fiery Boys ran a contest, offering one lucky woman the chance to ride on their tour bus for a week.
And second, I won.